Geofencing is one of the newest targeting methods for digital marketing. While most small businesses who advertise online are familiar with targeting potential customers via demographics, interests, and zip code, geofencing takes things a step further by allowing you to target people based on their current location. Here's what you need to know about geofencing and how it can support your local marketing efforts.
How Geofencing Works
Geofencing works by using a smartphone's beacon technology, GPS, radio frequency identifiers, and/or Bluetooth to trigger an ad or push notification when the device enters a virtual boundary, or geofence, drawn around a certain location.
If you own a coffee shop, you might set up a geofence within a mile radius of your location, so people nearby can receive notifications or view ads offering them a discount or promoting a new latte. The idea is that because people are in the area, they're more likely to stop by and take advantage of what you're offering.
Geofencing can be used in a number of different ways, but for marketing purposes, it's used for:
Triggering text messages
Showing display advertising when people are browsing the internet within an established geofence boundary
Sending push notifications
Benefits of Geofencing
There are a number of reasons to consider using geofencing for local marketing:
Expand Your Advertising Reach
If you're only using Google Ads or Facebook Ads, you're missing out on the opportunity to get your message in front of more prospective customers. For example, a landscaping company or a plumber could target nearby home improvement or hardware stores to get in front of customers who may not be actively searching in Google. This is an opportunity to introduce your business without the distraction of other competitor ads.
Improved ROI
You can use geofencing to target individuals who are likely to visit your business or use your services. When paired with other types of targeting, you can pinpoint exactly who sees your ads, optimizing your return on investment.
Track In-Person Visits
With other types of ads, you'd typically measure phone calls or contact form submissions. However, not all of those actions result in people visiting your office or store. Geofencing is unique because you measure actual in-person visits -- the technology uses your office or store as the conversion zone. As a result, you'll know exactly how many customers visited after viewing or clicking on your ads.
Examples of Geofencing for Local Businesses
Here are some examples of how local businesses are using geofencing in their digital marketing:
Geofencing around restaurants to share current offers and promotions
Geofencing around OB/GYN offices to advertise baby products
Geofencing around new subdivisions to advertise house painting
Geofencing around gyms to advertise personal trainer services
Geofencing around playgrounds to advertise preschools
Geofencing around hotels to promote tourist attractions
The most effective geofencing campaigns combine location targeting with demographic targeting to create laser-focused advertising that gets results.
Learn More About Geofencing for Local Businesses
Let It Be Local can help you get started with geofencing for your digital marketing. Contact us today to learn how we can help you generate more leads and stay ahead of the competition.
Call 203-979-4013 to learn more.
It doesn't seem all that long ago that we all felt like COVID-19 was in the rearview mirror, but the rise of the Delta variant has many of us donning masks again and heeding social distancing guidelines. Setting aside how you feel about these precautions personally, from a business standpoint, it's important to make sure your customers know what to expect when they visit you.
Local Profiles and COVID-19 Protocols
Luckily, there's a simple way to do this: update your local profiles. We're assuming you're already active on Yelp, Google My Business, and Bing Places (and if you're not, you should be!), so all you need to do is log into your accounts and use their built-in features to share updates about your business operations during COVID-19.
Updating COVID-19 Protocols on Yelp
Yelp profiles allow you a number of options for displaying your COVID-19 protocols. You can let customers know whether or not you're open. If you are open for business, you can list virtual consultations as an option, then check any additional safety measures your business is taking. Options include:
Proof of vaccination required
All staff fully vaccinated
Masks required
Staff wears masks
You can also add a banner message at the top of your Yelp page to communicate important messaging to customers or clients.
Updating COVID-19 Protocols on Google My Business
Google offers robust options for sharing COVID-19 protocol updates. Select the COVID-19 Update option in posts to create a message about your current business operations, then go to Health and Safety and select from the following options:
Mask required
Temperature check required
Staff wear masks
Staff get temperature checks
Updating COVID-19 Protocols on Bing Places
On Bing Places, you'll find a COVID-19 Related Announcements option listed prominently when you log into your account. Enter the information you want to share, add a link to your website for more details, and set a timeframe for your announcement if you have a start and end date in mind.
Why It Matters
As the Delta variant hits the US hard, more Americans are going to return to making decisions about which businesses to patronize (or not) based on their COVID-19 protocols. If this winter is a repeat of last year's, it's time to start preparing now.
In addition, by making sure people know what to expect before visiting your business, you can prevent potential conflicts over mask wearing and social distancing, alleviating some of the burden on your staff to enforce your guidelines.
Learn More About Navigating COVID-19 With Let It Be - Local
If your business is feeling the effects of COVID-19, smart messaging and digital marketing can help you get back on your feet again. Contact us today to learn more about our services.
If you run a small business, it can feel like keeping up with the latest in SEO and social media trends is an endless task. As soon as you have a handle on optimizing your website, an algorithm update changes everything; your Facebook posts are getting good engagement, then suddenly, it drops off a cliff and you can't figure out why. Now, Google My Business has added another new feature to the mix—the ability to create posts from your account.
Below, we'll go over where Google My Business fits into your local SEO efforts and the importance of GMB posts for small business owners.
What Is Google My Business?
Google My Business is a feature Google offers local businesses that allows them to manage their own Google Maps and Google Search presence. Assuming you own or run marketing for a small business if you're reading this, you should know that local search is the front door to any SEO strategy; if you're not active on Google My Business, it's time to get started.
If you don't use GMB, Google decides what information it will share with its users about your business—and it may not always be accurate. Being active on GMB gives you the opportunity to take charge of your own information. You can make sure your address, business hours, and other critical information is correct, ensuring that potential customers or clients are able to connect with you.
What Are Google My Business Posts?
While Google My Business began as a means of sharing the nuts-and-bolts information about a business, it's evolving into a marketing platform, giving local businesses the option of sharing updates via GMB posts. General updates, CV-19 announcements, special offers, and more are available to help drive additional search traffic to your business's website.
Here's what a GMB post looks like: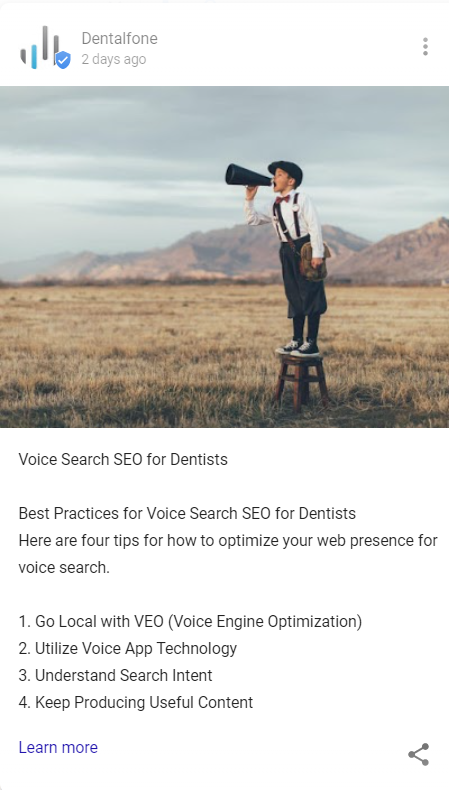 If we were to compare Google My Business posts to another social media platform, we'd say they're most like Facebook updates, as you can include text, images, video, and links to share your latest blog posts, promotions, or news. The two are so similar, in fact, that we recommend simply repurposing your Facebook posts for GMB if you don't have the time or budget to create dedicated GMB posts. Aim to share a post on GMB at least once a week.
How to Use Google My Business Posts for Your Small Business
Just like with Facebook, your GMB posts should have at least one image attached to them, along with text that engages your audience and encourages them to contribute to the conversation. GMB posts are perfect for sharing upcoming events, offers or discounts, hour updates, and new products or services. Here are some quick tips to get you started:
Use high quality images in your posts. Graphics or photos that are blurry or have low resolution will reflect poorly on your business.
Keep it short and sweet and avoid walls of text. People should be able to quickly skim your updates and get the idea of what you're saying.
Include a call to action. For a blog post, it could be "read more on our website." Advertise a downloadable coupon by inviting people to print it out today. Every Google My Business post should have a purpose behind it; the CTA is where you make that purpose clear.
Keep it professional, but friendly. Google My Business isn't Instagram, so avoid informal punctuation and spelling, and slang. However, it has shown that the use of emojis has had a positive effect on client engagement.
Include a title on the post and make sure it is not in all caps.
Don't be afraid to test the waters. Try different types of offers and promotions, then analyze how they perform to refine your GMB post strategy moving forward.
Right now, we're observing that the optimization of Google My Business profiles is the number one ranking factor for local businesses. As with everything related to Google, there's no disclosure about whether and how GMB posts factor into local search rankings, but we do know people will see them when they search for your business. GMB posts give you the control to share what you want potential customers or clients to know about your business at the precise moment that they are searching for what you have to offer.
Learn How We Can Help Manage Your GMB Presence
If you're struggling to keep up with Google My Business posts, our team of local search experts can help. Contact us today at 203-979-4013 to find out more about our SEO services in southeastern CT.