If you run a small business, it can feel like keeping up with the latest in SEO and social media trends is an endless task. As soon as you have a handle on optimizing your website, an algorithm update changes everything; your Facebook posts are getting good engagement, then suddenly, it drops off a cliff and you can't figure out why. Now, Google My Business has added another new feature to the mix—the ability to create posts from your account.
Below, we'll go over where Google My Business fits into your local SEO efforts and the importance of GMB posts for small business owners.
What Is Google My Business?
Google My Business is a feature Google offers local businesses that allows them to manage their own Google Maps and Google Search presence. Assuming you own or run marketing for a small business if you're reading this, you should know that local search is the front door to any SEO strategy; if you're not active on Google My Business, it's time to get started.
If you don't use GMB, Google decides what information it will share with its users about your business—and it may not always be accurate. Being active on GMB gives you the opportunity to take charge of your own information. You can make sure your address, business hours, and other critical information is correct, ensuring that potential customers or clients are able to connect with you.
What Are Google My Business Posts?
While Google My Business began as a means of sharing the nuts-and-bolts information about a business, it's evolving into a marketing platform, giving local businesses the option of sharing updates via GMB posts. General updates, CV-19 announcements, special offers, and more are available to help drive additional search traffic to your business's website.
Here's what a GMB post looks like: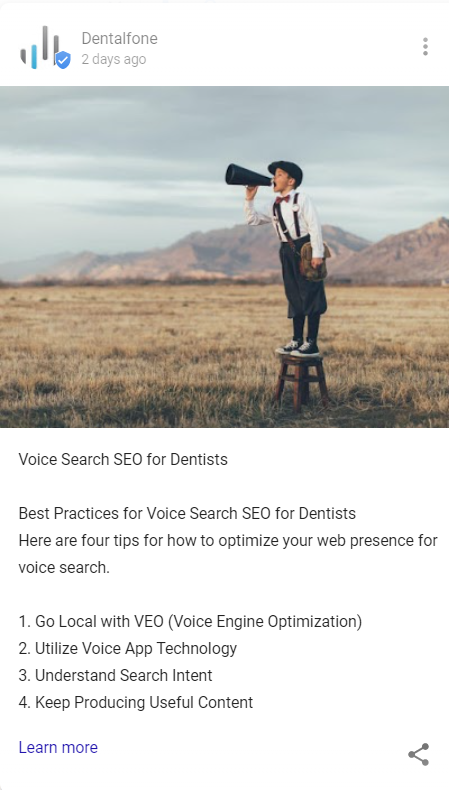 If we were to compare Google My Business posts to another social media platform, we'd say they're most like Facebook updates, as you can include text, images, video, and links to share your latest blog posts, promotions, or news. The two are so similar, in fact, that we recommend simply repurposing your Facebook posts for GMB if you don't have the time or budget to create dedicated GMB posts. Aim to share a post on GMB at least once a week.
How to Use Google My Business Posts for Your Small Business
Just like with Facebook, your GMB posts should have at least one image attached to them, along with text that engages your audience and encourages them to contribute to the conversation. GMB posts are perfect for sharing upcoming events, offers or discounts, hour updates, and new products or services. Here are some quick tips to get you started:
Use high quality images in your posts. Graphics or photos that are blurry or have low resolution will reflect poorly on your business.
Keep it short and sweet and avoid walls of text. People should be able to quickly skim your updates and get the idea of what you're saying.
Include a call to action. For a blog post, it could be "read more on our website." Advertise a downloadable coupon by inviting people to print it out today. Every Google My Business post should have a purpose behind it; the CTA is where you make that purpose clear.
Keep it professional, but friendly. Google My Business isn't Instagram, so avoid informal punctuation and spelling, and slang. However, it has shown that the use of emojis has had a positive effect on client engagement.
Include a title on the post and make sure it is not in all caps.
Don't be afraid to test the waters. Try different types of offers and promotions, then analyze how they perform to refine your GMB post strategy moving forward.
Right now, we're observing that the optimization of Google My Business profiles is the number one ranking factor for local businesses. As with everything related to Google, there's no disclosure about whether and how GMB posts factor into local search rankings, but we do know people will see them when they search for your business. GMB posts give you the control to share what you want potential customers or clients to know about your business at the precise moment that they are searching for what you have to offer.
Learn How We Can Help Manage Your GMB Presence
If you're struggling to keep up with Google My Business posts, our team of local search experts can help. Contact us today at 203-979-4013 to find out more about our SEO services in southeastern CT.